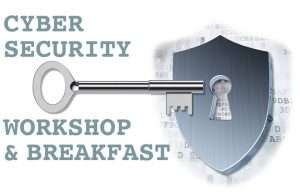 May 4, 2017 • 7:30-9:30am
Register Below
The world today is integrated and connected in ways that were only dreams a mere ten years ago. But with the benefits, come great risks. Every single day a virus or hacker will compromise everything from a home computer or smartphone to the server of a billion dollar corporation. It's no wonder that at the top of the list for Risk Management is CYBER SECURITY.
Join us for a "Need to Know" morning of information and instruction. You may just discover what you need to prevent the next attack.
Featuring the expertise of:
Scott Augenbaum (FBI Special Agent)
• Social Engineering Schemes
•2 Factor Authentication
• Prevention vs Remediation
• Real Victim Stories
Milton Bartley (Co-founder, President & CEO, ImageQuest)
• Pros & Cons of Cyber Security Insurance
• Employee Education
• Business Risk Assessment
• Password Tips
• Real Client Stories
Derek Johnson (Director, Service Delivery, Peak 10)
• Ransomware (Cryptolocker) – What is it?
• What to do if you are compromised
• How can you prevent re-infection?
• Peak 10 Customer Case Studies
Breakfast starts at 7:30AM
Cost: $25
Download Event Flyer Here
Williamson College
274 Mallory Station Rd
Franklin, TN 37067
(The Aspen Grove Bldg, Cool Springs)
615.771.7821
This Special Workshop is Presented by Williamson College
---
>