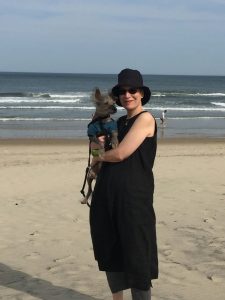 Joyce Fazio, M.A.
Joyce Fazio has spent the last 24+ years in the classroom encouraging students to connect to text. She has done this in the private Christian school as well as public sectors in the New Jersey and Philadelphia region, along with being an adjunct professor at Rowan College at Burlington County. Whether she is teaching AP Literature, AP Language, British, American, or World Literature, the love and comprehension of written text is her passion. One of Joyce's favorite quotes, attributed to C.S. Lewis, is "We read to know we are not alone", so how fitting to teach a course uncovering not only Lewis' comprehensive thoughts on Christianity but of approaching text as well.
She is, of course, an avid reader as well as a practicer of simple living.  She and her husband, Joe, worship at St. Johns Anglican Church (another connection to Lewis) where she enjoys teaching Children's Church and continuing her journey of faith.
Joyce and Joe just moved to Franklin to be near their married son.  Their eldest son is getting married in July and resides in Calgary, Alberta.